Home
Main content starts here, tab to start navigating
Slide 1 of 24
Slide 2 of 24
Slide 3 of 24
Slide 4 of 24
Slide 5 of 24
Slide 6 of 24
Slide 7 of 24
Slide 8 of 24
Slide 9 of 24
Slide 10 of 24
Slide 11 of 24
Slide 12 of 24
Slide 13 of 24
Slide 14 of 24
Slide 15 of 24
Slide 16 of 24
Slide 17 of 24
Slide 18 of 24
Slide 19 of 24
Slide 20 of 24
Slide 21 of 24
Slide 22 of 24
Slide 23 of 24
Slide 24 of 24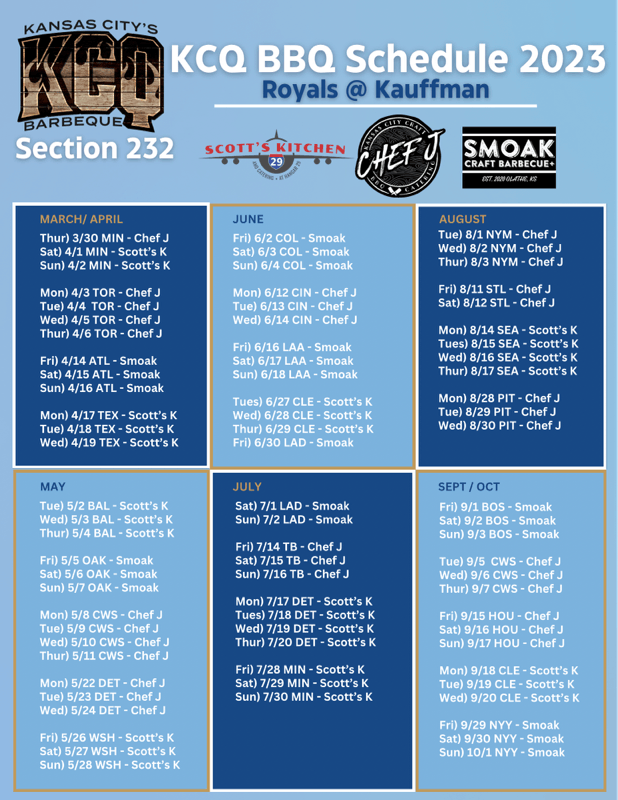 Come out and see us at Kauffman Stadium during the 2023 Royals season!
Where to find us:
KCQ Stand | Section 232
Just outside of the Diamond Club!
For the games that we aren't cooking for you please visit and enjoy rotating menus with our friends Smoak Craft BBQ & Chef J BBQ.